In Italian the word for hair is the same as the word for foliage on trees, "Chiome." Both us and the trees have them. In some cultures the hair is a symbol of one's soul and spirit. And just as we need to take regular care for our hair and of ourselves, we need to take care of nature. Afterall we are one in the same.
Roberta Apos from Officina Paar has been developing the Chiome project with designers and creatives in various fields. It will consist of a series of events, exhibitions and a design book. Proceeds from these will go toward replanting trees in the Puglia, a region that was previously thriving and is now in critical risk of desertification.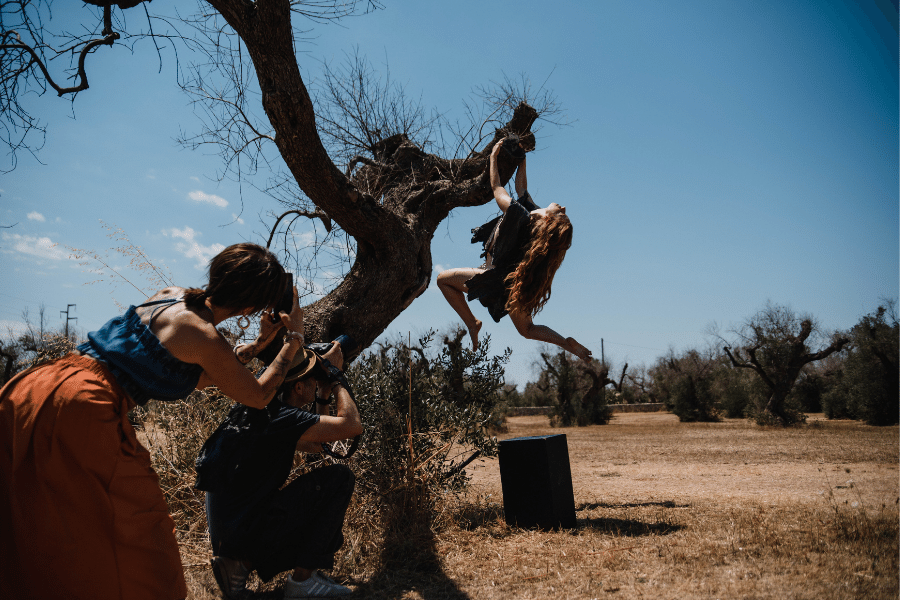 CHIOME'S FIRST EVENT
The first event took place in the summer of 2021 at Secolario, a once fruitful olive farm with thousands of centennial trees in Southern Italy. These olive groves at Secolario, like many across Salento, have been completely wiped out by the Xylella Fastidiosa bacteria, leaving only the skeletons of these hundred plus year old trees.
The event consisted of a ceremony giving thanks to our earth and then a photography shoot capturing dancers and models. Officina Paar's team of hair and makeup created beautiful romantic looks. The costume design by Calcagnile Academy in Lecce was produced using only sustainable biodegradable materials.
The models' body became the trunks of the centennial olive trees and their hair became the branches and foliage. The hair cut symbolizes the loss of leafage that these trees have faced. But even with this immense sacrifice, nature, like our hair has the ability to regenerate and grow. The images depict "Donna Albero," translated as the 'tree woman.' It represents the earth mother and the archetype of the wild woman. Even in death these imposing trees are beautiful, majestic and need to be honored for everything they've given to past generations.
CHIOME'S MESSAGE
The message of Chiome is a simple realization that we are all connected. What we see in nature is a reflection of what and who we are. When the earth is healthy and thriving, so are we. When the earth is sick, so are we. And right now the earth is screaming for change. Let's go back to our roots, our home, our earth. The time to help is now.
Will you hear her cries? If you do, you can have a powerful impact, we all can.
So yes, a haircut can help save the earth.
For more information on Officina Paar, click here.
For more information on Calcagnile Academy, click here.
For more information on Secolario, click here.
To find out how we are helping combat desertification in Puglia