There's been an increasing push from society and especially from younger generations to live more sustainability. Modern society has been abusing it's natural resources for financial gain. Deforestation and the dumping of pollution in the air, land and water are having disastrous effects on our planet. We are all affected.
As the world runs on a capitalistic system, conscious buyers choose to put their money where their values are. Marketers who analyze societal trends to better sell their company's products or services have been creating strategies to sell to this earth conscious audience. This is when the term "greenwashing" came into existence. Are the companies that you are giving your money to really striving to create more sustainable procedures and systems? Or are they just slapping on a "green" label to hit those sales targets?
Greenwashing is a term that first appeared in 1986. It's the marketing ploy that is used "when a company or organization spends more time and money on marketing themselves as environmentally friendly than on minimizing their environmental impact," (Business news Daily).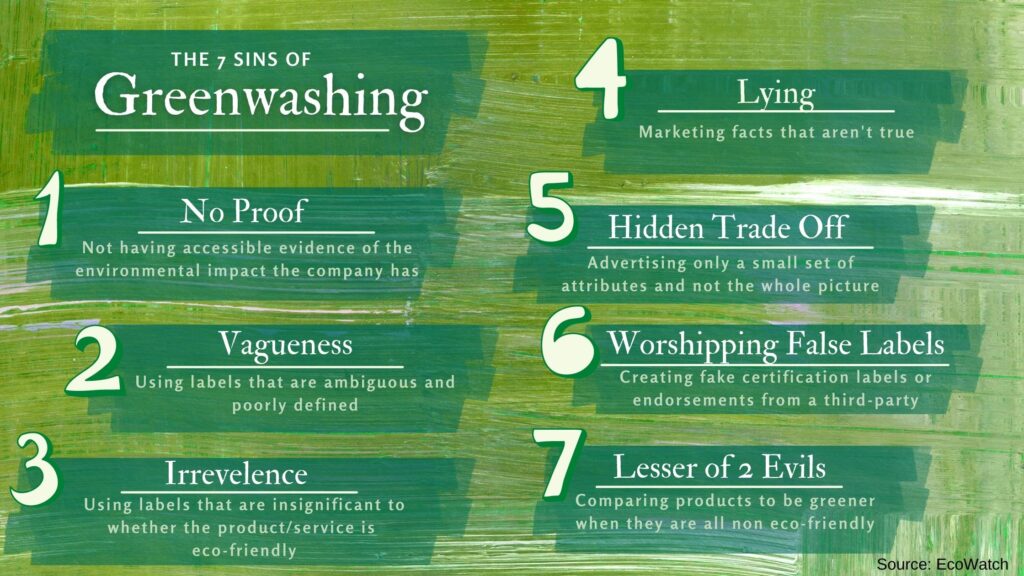 Greenwashing Vs. Green Marketing
The difference between greenwashing and green marketing is authenticity, legitimacy and transparency. Greenwashing is marketing that pretends that the product or company is environmentally sustainable by using the tricks of the '7 sins' shown above.
Green marketing communicates actual facts about the impact the product or company has on the planet and on us.
Questions To Ask About Whether A Company Is Greenwashing Or Using Green Marketing
What is the manufacturing impact on the environment? Is it made from recycled material?
What is the packaging like? Is it excessive or use plastic?
Can the product be recycled or reused?
Is it made from renewable materials?
Does the product contain any harmful chemicals that negatively impact us or the environment?
Is the company transparent about how the raw materials are sourced?
What are the working conditions for the company's employees? Is the company transparent about who and how the items are produced?
Does the company test on animals?
When looking at whether a company is green washing or green marketing, honesty and transparency is the best thing to look for. An excellent example for green marketing is American outdoor retailer Patagonia. They acknowledge that their processes are not perfect and do have some impact on the planet, but they strive to improve their footprint. They are transparent about their processes, manufacturing and the employee working conditions. They create programs for clients to return their used clothing for credit and are involved in environmental and social activism.
In today's society it's almost impossible to find a company that is perfect and that doesn't impact the environment in some way. This is because the systems that have constructed our society were built by people who saw the earth as an infinite resource to be used, owned and controlled.
Today many of us are more conscious about the impact that we are having. No company is perfect, but it's important that they continuously review, adapt their methods and strive to create a smaller environmental footprint. We as conscious consumers need to hold companies accountable.
To find out why Environmentalists are saying that COP26 was greenwashing, click here.
To check out Patagonia's green marketing, click here.
Sources: Business News Daily, EcoWatch