You know you've reached Puglia, the heel of the Italian boot, when you start seeing what seems to be a never ending sea of olive trees. 60 million trees spread over 9 million hectares of land. Trees that have looked over its people for thousands of years. The first known usage of olives in this region dates back to Neolithic times. Puglia has a rich history with many groups who have come, conquered and inhabited these lands.
Throughout the changes, the value of olive trees was almost always understood. Known as "green gold," olive oil became one of the most valuable staples. From providing nourishment to lighting cities, it became an essential product that was used daily.
The Apulian people have been working with the very same trees that their grandparents and great-great-grandparents worked with. How many stories do these venerable trees have to tell? The groves have had a rich cyclical past of growth and expansion to bouts of decline and back to regeneration.
A Brief History Of The Olive Tree in Puglia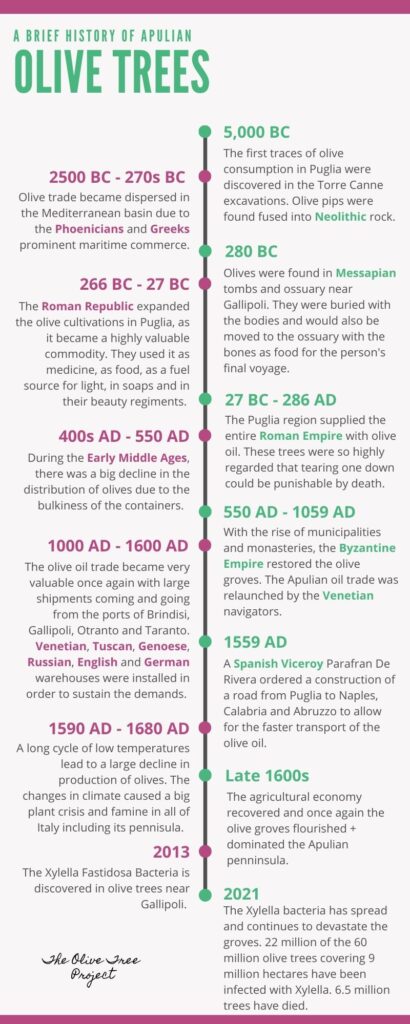 Olive Trees in Puglia Today
The olive trees today unfortunately face a perilous foe, the Xylella Fastidiosa Bacteria. It has been quickly ravaging the groves, shutting down the tree's ability to absorb nutrients and hydration. The older trees seem to be the more susceptible and many millennial trees have completely dried out. There is much sorrow and anguish in local communities as they continue to face the destruction of their identity, story and livelihood. As of today, the entire Salento peninsula has been affected and the spread continues to move north. There are efforts for containment, but traces of Xylella have already been found in other parts of Italy, France, Portugal and Spain.
One of the biggest challenges, which has exacerbated the situation, is the controversial nature of how to move forward and find a solution. The EU originally mandated that all trees 100 meters around an infected tree be cut down, whether infected or not. The debating, denial and tedious bureaucracy have allowed the problem to worsen.
However grim the situation might look today, we learn from the past that there is always the opportunity for regeneration and for the region to flourish once again. In 2021, the government has allocated 150 million Euro for the relaunch of the olive industry in affected areas. Although this will be by no means enough to cover the loss of identity, 1 billion euro in business and the irreplaceable centennial trees, it is a step in the right direction.
The Olive Tree Project
At The Olive Tree Project, we have committed ourselves to helping this environmental crisis. We believe that it's vital to return to a more organic and sustainable method of agriculture. We want to see the region thrive once again and we want to support local communities rebuild their lives.
OTP participates and organizes events that help replant the region. Reforesting the region and regenerating the land is vital to help combat desertification, rebuild ecosystems and generate biodiversity. There is a lot of work to be done, but we are positive that life will be thriving once again.
Do you want to help our cause ? Click here to see how you can help.
Sign up for our newsletter to know The Olive Tree Project's latest happenings
> Find out about the oldest bottle of olive oil ever found, here.
> Find out how the first olive tree was created according to Greek mythology, here.
> Find out how Cleopatra used olive oil in her beauty routine, here.
> Find out the 13 powerful benefits of trees, here
Sources: Open Edition Journals – Guido Alfani, Forestaforte, La Republica , La Mia Puglia, Camera dei Deputati Servizio Studi XVIII Legislatura