Sai di aver raggiunto il tacco dello stivale italiano quando inizi a vedere quello che sembra essere un mare infinito di ulivi. 60 milioni di alberi sparsi su 9 milioni di ettari di terra. Alberi che hanno guardato la sua gente per migliaia di anni. Il primo uso conosciuto delle olive in questa regione risale al Neolitico. La Puglia ha una ricca storia con molti popoli che sono venuti, hanno conquistato e abitato queste terre.
Nel corso degli anni, il valore degli ulivi è stato quasi sempre riconosciuto da questi popoli. Considerato come "oro verde", l'olio d'oliva è diventato uno dei prodotti di base più preziosi. Dal fornire nutrimento. alilluminare le città, divenne un prodotto essenziale che veniva usato quotidianamente.
I pugliesi hanno coltivato gli stessi alberi che hanno coltivato i loro nonni e bisnonni. Quante storie hanno da raccontare questi venerabili alberi? I boschetti hanno avuto una ricca storia ciclica di crescita ed espansione, di periodi di declino e di nuovo di rigenerazione.
La Storia dell'Olivo in Puglia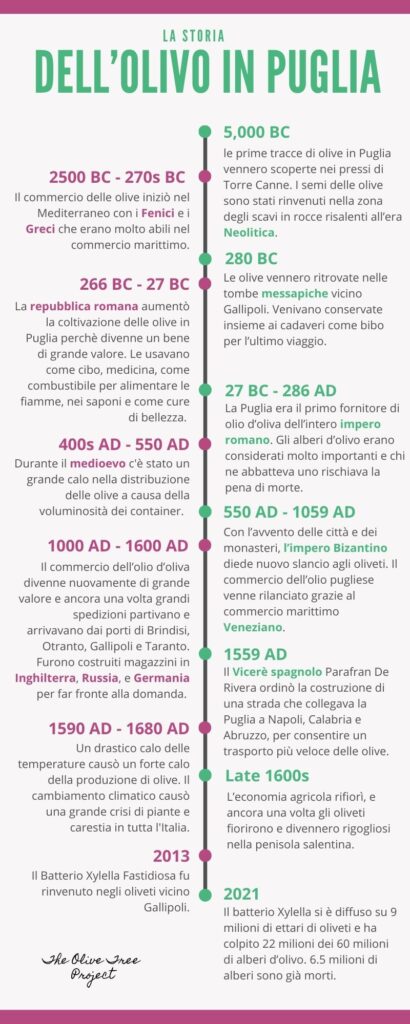 Gli Ulivi In Puglia Oggi
Gli ulivi oggi devono purtroppo affrontare un nemico pericoloso, il batterio Xylella Fastidiosa. Sta devastando rapidamente gli oliveti, mettendo fuori gioco la loro capacità di assorbire nutrienti e idratazione. Gli alberi più vecchi sembrano essere i più suscettibili e molti alberi millenari si sono completamente seccati. Sconforto e angoscia sono i sentimenti che pervadono la comunità pugliese che continua ad assistere alla distruzione della sua identità millenaria. Ad oggi, l'intera penisola salentina è stata colpita, e la diffusione continua a spostarsi verso nord. Si combatte per il contenimento, ma tracce di Xylella sono già state trovate in altre parti d'Italia, Francia, Portogallo e Spagna.
Una delle maggiori sfide, è capire come andare avanti e trovare una soluzione. L'UE ha originariamente stabilito che tutti gli alberi a 100 metri di distanza da un albero infetto devono essere abbattuti, che siano infetti o meno. Il dibattito, la negazione e la tediosa burocrazia hanno permesso al problema di peggiorare.
Per quanto cupa possa sembrare la situazione oggi, impariamo dalla storia a vedere che c'è sempre la possibilità di rigenerazione e che la regione possa rifiorire. Nel 2021, il governo ha stanziato 150 milioni di euro per il rilancio dell'industria olivicola nelle zone colpite. Anche se questo non sarà assolutamente sufficiente a coprire la perdita di identità, 1 miliardo di euro di perdita del volume d'affari e milioni di alberi centenari, è un passo nella giusta direzione.
The Olive Tree Project
Noi di The Olive Tree Project, ci siamo impegnati a combattere questa crisi ambientale. Crediamo che sia vitale tornare a un metodo di agricoltura più organico e sostenibile. Vogliamo vedere la regione prosperare di nuovo e vogliamo sostenere le comunità locali a ricostruire le loro economie.
OTP ha l'obiettivo di piantare 1 milione di alberi. Riforestare la regione e rigenerare la terra è vitale per aiutare a combattere la desertificazione, ricostruire gli ecosistemi e generare biodiversità. Anche se la situazione può sembrare nefasta, siamo sicuri che la vita tornerà a prosperare.
Vuoi aiutare la nostra causa? Clicca qui per vedere come puoi aiutarci.
Iscriviti alla nostra newsletter per conoscere gli ultimi avvenimenti di The Olive Tree Project
Fonti: Open Edition Journals – Guido Alfani, Forestaforte, La Republica , La Mia Puglia, Camera dei Deputati Servizio Studi XVIII Legislat