Siamo stati invitati, insieme ad altri esponenti del settore, a discutere della questione Xylella dalla trasmissione televisiva locale ControVento di Telerama.
Il dott. Cazzetta, imprenditore e olivicoltore di 6a generazione ha discusso l'impatto disastroso che la Xylella ha avuto sugli agricoltori locali. Ha dichiarato che prima dell'epidemia, 1 ettaro di oliveto costava da 30 a 40 mila euro, e un'azienda olivicola ben gestita di 100 ettari aveva un potere reddituale di circa 300.000/400.000 euro.
Da quando il batterio si è diffuso in tutto il sud della Puglia, il reddito è sceso a zero e il valore patrimoniale di 1 ettaro di terreno con ulivi è sceso a 500 euro. La devastazione ha messo fuori gioco quasi tutti gli olivicoltori ed è costata alla regione una perdita di 3 miliardi di euro.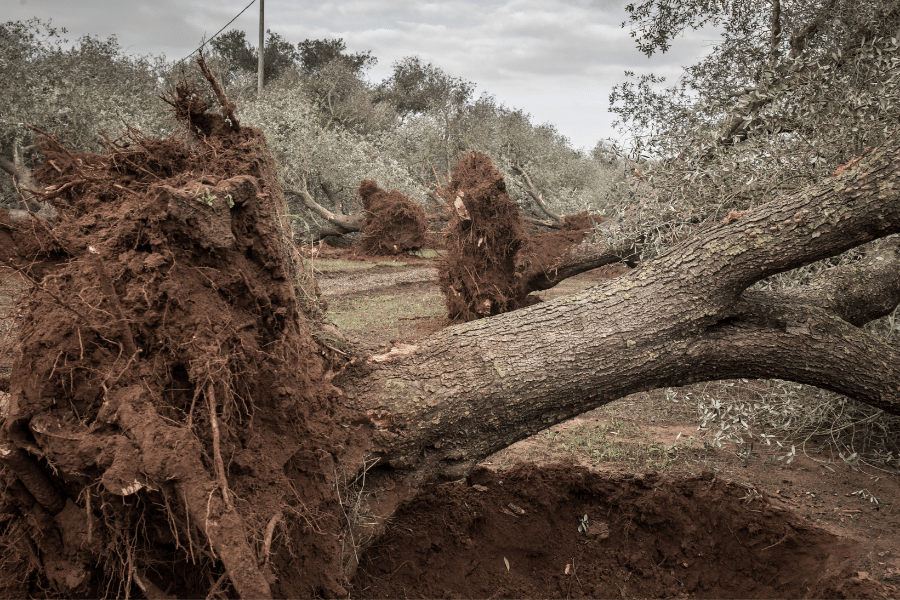 Cosa Sta Succedendo Agli Alberi d'Olivo?
Dopo otto anni dalla sua scoperta, la situazione non sembra migliorare. Le istituzioni stentano a trovare una soluzione, poco o nessun aiuto è arrivato agli agricoltori e il batterio continua a diffondersi. Camminando nelle campagne pugliesi si incontrano ettari ed ettari di ulivi secchi, scheletri di quelli che una volta erano maestose piante rigogliose. L'enorme lavoro di espianto degli alberi colpiti ha generato tonnellate di legna d'olivo. Ma cosa se ne fà di tutto questo legno? Attualmente viene mandato in Calabria per essere bruciato.
Il Presidente dell'associazione Davide Catalano ha dibattuto a lungo discusso su come la vendita di questo legno d'ulivo sia un insulto a ciò che è, ed è stato il territorio Salentino per anni. Prima questi alberi centenari erano visti come monumenti nazionali ed erano protetti come tali, e ora vengono spediti e bruciati.
La Sostenibilità È La Chiave
Tutti i relatori hanno parlato dell'importanza di onorare questi alberi, anche dopo la loro morte, e la strada maestra è la sostenibilità – e cioè l'economia circolare. Dare nuova vita al legno dei vecchi ulivi secolari distrutti aiuterà a celebrare l'identità culturale delle popolazioni locali e ad educare gli altri sull'importanza che questa pianta ha avuto; darà al territorio l'opportunità di lanciare una nuova industria sostenibile e aumenterà la consapevolezza del problema Xylella anche a livello internazionale.
"Questo non è solo un problema locale e nemmeno un problema italiano, ma un problema europeo e globale."

Davide Catalano, Il presidente dell'associazione The Olive Tree Project
Il presidente dell'associazione The Olive Tree Project, Davide Catalano ha dichiarato nella discussione: "Questo non è solo un problema locale e nemmeno un problema italiano, ma un problema europeo e globale." Viviamo su un unico pianeta, quindi ciò che accade in un luogo ha un impatto ambientale che si ripercuote su tutti gli altri.
Per il video completo in diretta streaming del programma Contro Vento in italiano, clicca qui.
Cosa Sta Facendo The Olive Tree Project?
Uno dei progetti di The Olive Tree Project è utilizzare il legno d'ulivo recuperato dalle piante estirpate per trasformarle in elementi d'arte e di design. Attraverso workshop, la creazione di un museo all'aperto, e invitando vari artisti, designer e organizzazioni, l'associazione spera di onorare questi alberi centenari e diffondere la consapevolezza dell'attuale situazione ambientale nel Sud Italia.
Se vuoi saperne di più o vuoi essere coinvolto, clicca sul pulsante qui sotto